IN FULL COLOR
Bio/artist's statement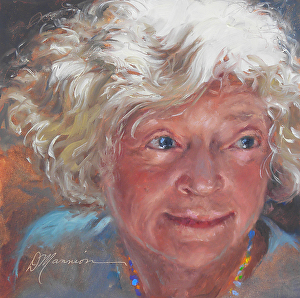 My adopted state of Florida is an inspiration. Sky and water, vivid colors, light and shadows... hurricanes! There's an energy here that drives my painting. People, palm trees, birds and flowers. Tourists and trailer parks. Painting material everywhere I look! I'm lucky to live where the ordinary is extraordinary. Florida's beauty contrasts sharply with seedy tackiness. My challenge is to translate this visual chaos with paint in full color.

I paint with several plein air groups in Southwest Florida and often venture out on my own. Sometimes fire ants or rain chase me into my car (auto-painting). A plein air sketch may evolve into a larger studio painting. Over thirty years as an artist/author (more than 64 books illustrated as Diane Paterson, 12 as author) have influenced the way I see and translate visual reference. Sharing my skills through teaching has sharpened my life-long learning process.
My blog has become an important part of my work. I post and write about painting techniques almost daily. Please visit:
dianemannionpaintings.blogspot.com
TEACHING:
On-going sessions... Venice Arts Center, Ringling Englewood, Punta Gorda Visual Arts Center.
PLEASE SCROLL DOWN FOR RESUME, ETC......
Education:
Pratt Institute and SUNY, BA, New York and Graduate Studies, Instructor
Membership:
Visual Arts Center, Punta Gorda, Art Instructor
Visual Arts Center, Venice, Instructor
Ringling Englewood Art Center, Instructor
Plein Air Painters of Florida
Plein Air Painters Sun Coast
Light Chasers Plein Air Painters, Sarasota
OPA Oil painters of America
Portrait Society of America
Daily Painters, member
Daily Paintworks, member
Women Painters of the Southeast
American Impressionist Society

Exhibits:
2008
Paintout, Mary Erickson's Retreat, NC
Julia's Arts, Demo, Matlacha, FL
St Armands Art Festival, Sarasota, FL
Ringling's Englewood Art Center, Sea and Shore Exhibit,FL
Venice Art Center, Fall Group Show, FL
Art In the Palms, Palm Island, FL
Art Sensations, Paintout Punta Gorda, Marina, FL

2009
Venice Art Festival, FL
Julia's Arts Demo, Matlacha, FL
Dearborn Street Paintout, Englewood, FL
Plein Air Painters Group Show, Visual Arts Center, Punta Gorda, FL
Venice Art Center Spring Exhibit, FL, MERIT AWARD
Firecracker Show, Punta Gorda, FL, VAC, FIRST PRIZE
Asian Art Influence Exhibit, Venice Art Center
Summer Sizzler Exhibit, Punta Gorda VAC, 1st Place
Paint the Parks, Juried into Parks Mini 2nd50 Competition
Moderator, VAC Plein Air Painters Heatstrokes
Harvest of Art, Juried, Punta Gorda, MERIT AWARD
FACES AND FIGURES, Venice Art Center, MERIT AWARD
ART IN THE PALMS, Palm Island. Moderator for Heatstrokes plein air group.

2010
Several awards at all the art centers group shows. Have large ribbon collection!
National Show, Punta Gorda
Harvest of Art, Punta Gorda... 2nd Place
Taught workshops and classes for pastel, Bootcamp, Small paintings, and youth art camp, Punta Gorda, FL.

2011
Punta Gorda Plein Air Competition, 1st place AND People's choice!
Teaching workshops and classes for pastel, Bootcamp, Small paintings, Punta Gorda, FL,
Ringling's Englewood Art Center, and Venice Art Center.
Won lots of awards and ribbons in 2011 that I was too busy to post here but the main win of the year was a huge honor! THE BOWLES PORTRAIT AWARD for my MOHAGANY WOMAN.
Had three paintings accepted into Randy Higbee's 6x6 inch show in California!

2012
March 16th... showing at the Celery Barn, Towles Court, Sarasota, FL with the Light Chasers Plein Air Group.
March... NAUTILUS in the Salon des Refuses, VAC Punta Gorda, FL.
April... two paintings in the Woman Painters of the Southeast show CORSE GALLERY, Jacksonville, FL.
MAHOGANY WOMAN won top prize, Fine Art Connoisseur Magazine Award of Excellence!
Grosse Pointe, MI... Group Show, Realisim/Surrealisim June-July

2013
Women Painters of the SE, second year exhibit.
Harvest of Art Group Show, Punta Gorda, FL
JUDGE! Hermitage Paintout, Manasota Key, FL,
Randy Higbee 6" Square Show, 3rd year
Judge, Desoto Arts and Humanities Members Show
Boldbrush Competition...FAV 15% 10/2013
GREATEST HITS, Punta Gorda Visual Arts Center, Boyles Award for Outstanding Portraiture (second time won!) AND People's Choice Award

2014
Women Painters of the Southeast, juried into 2014 show
Punta Gorda National Show, 2014... 2 paintings juried in!
Light Chasers Hub Show, Sarasota
SOS, Save Our Seabirds, plein air weekend with Light Chasers
Ringling Englewood...2 Artists
Solo Show! IN FULL COLOR, Conservation Foundation of the Gulf Coast,
Bay Preserve at Osprey March-May 2014
Art Alliance of Lemon Bay, Plein air show, Englewood, FL
Punta Gorda Visual Arts Center Plein Air Painters show
Ringling Instructors Show, Englewood, FL
Randy Higbee 6" Square Show
BRADENTON PAINTOUT, Second prize Quick Draw, and Honorable Mention for Exhibition
ARCADIA PAINTOUT, 2014 FIRST PRIZE
2015
BOLDBRUSH FAV WINNER! OCT 2014, NOV2014, JAN 2015
Plein Air Painters, VAC, Punta Gorda, 2015 Honorable Mention
Light Chasers... selected as EMERGING MASTER
Light Chasers Master Artist Show
Light Chasers Gala Exhibition, Phillipi Estate, Sarasota
Women Painters of the SE, juried into 2015 show
Winner's Circle Exhibition, VAC Punta Gorda


Teaching ongoing classes in Punta Gorda Visual Arts Center, and Ringling Art Center, Englewood.
Maintaining Painting and Technique Blog with over 1000 paintings archived since 2008.